I finally made a tutorial.. beware! Although I am still working on making realistic hair, here is a start to going a little above your typical black and white photo. Addin bursts of colors, hair if needed, and texture. Hope you enjoy!
Items used:
Photoshop CS5
To view all the photo's for this tutorial please visit http://s1234.photobucket.com/albums/ff412/kazee169/Tutorial/
Hair brush: http://redheadstock.deviantart.com/art/Hair-Photoshop-Brushes-20497131 (easy to install just download, unzip, and double click the install file)
Texture: http://www.ballastmedia.com/wp-content/uploads/RedBackground.jpg (right click save image as... to save)
 Choose your photo.
 Unlock your background: On the right side where circled double click, this should bring up a window that says layer 0, click ok. Now you have unlocked your background so you may edit it.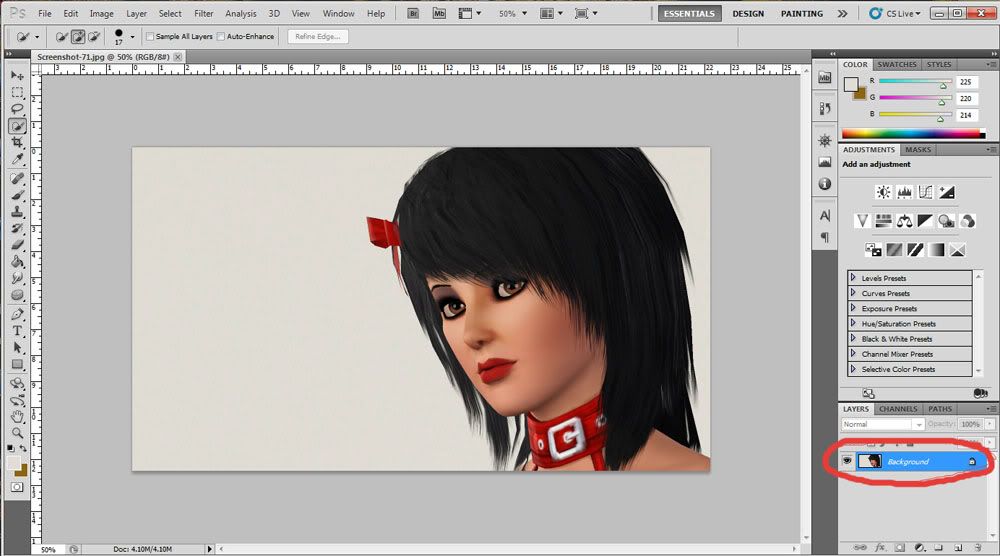 Next we are going to remove as much of the background as we can using color range filter. Go to the top of your photoshop window. Click select> Color range. This will pop up another window, click the eyedropper onto the background color that you don't want. In my case the off white.
 Now you will want to remove any area that you do not want deleted. To do this click the "Quick selection tool" on the left hand bar going downwards. it is the 4th tool, as circled. Pressing alt while brushing over the area you do not want deleted will remove the deletion area. Do this especially around the face.
 After you get it how you want click delete. This will remove all background leaving you with a checkered pattern.
 Ok now using the Burn tool. It is located on the left panel, the 14th down> when you right click it you have 3 options, if not already selected select burn tool now. Go around the edges with this too get rid of any left over background color. This is actually why I prefer to use an off white background with photo taking, because it makes burning easy to do. Be careful not to burn any of your subjects face, skin, or clothing.
 Because it is hard to keep that feathery look, some hair brushes might be helpful. For this particular projects I will be using hair brushes. Click on the paintbrush, then to the top (where circled) to choose your brush. The click on the bottom left hand color panels. with the 2 color selections choose colors that are close to your current hair color. In this case it is easy to do black.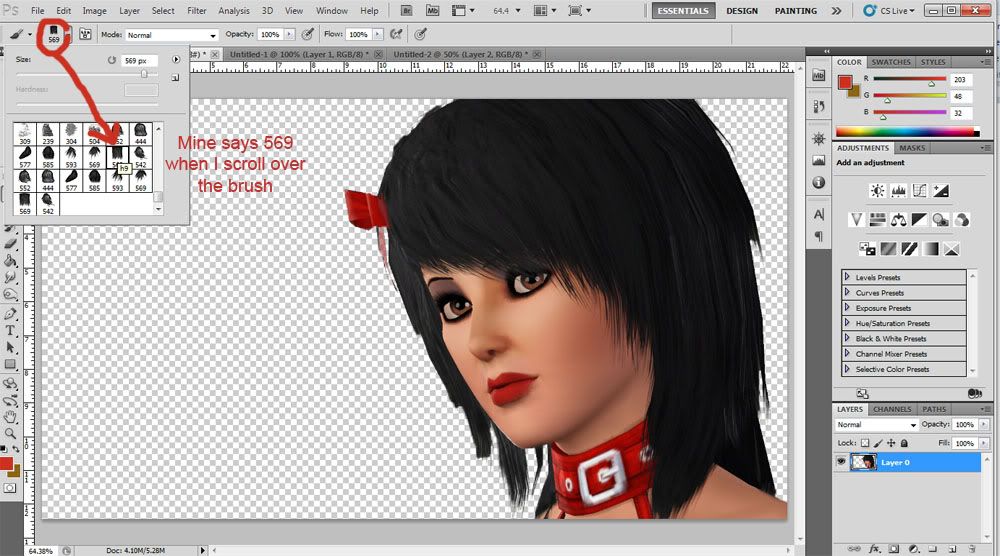 Before you begin brushing in we need to add layers. To do this it is Shift + Ctrl + N. now click an area that you will be able to see. click until to your prefered darkness. I click twice to give it a little see through before I start blending. Now go to your layer and right click. go to Blending options and a new box will appear. Click blending mode to see all your options. For this photo I will be using pin light, but you can play with it until you find one you like and that fits your needs.
 Using CTRL + T you can now move it about and turn it. Put it where you want it to be. The simply press ENTER. And easy way to do this is you plan on using the same hair texture through out is by right clicking the layer> Duplicate Layer> OK. This makes a copy of the hair your just made.
 At this point I typically duplicate twice. Then click the eyeball next to the original layer to remove it. Now right click and at the bottom you will see Merge Visible. Now we have a darker strands. Then click the eyeball again to see your sim.
It should look something like this when you are done.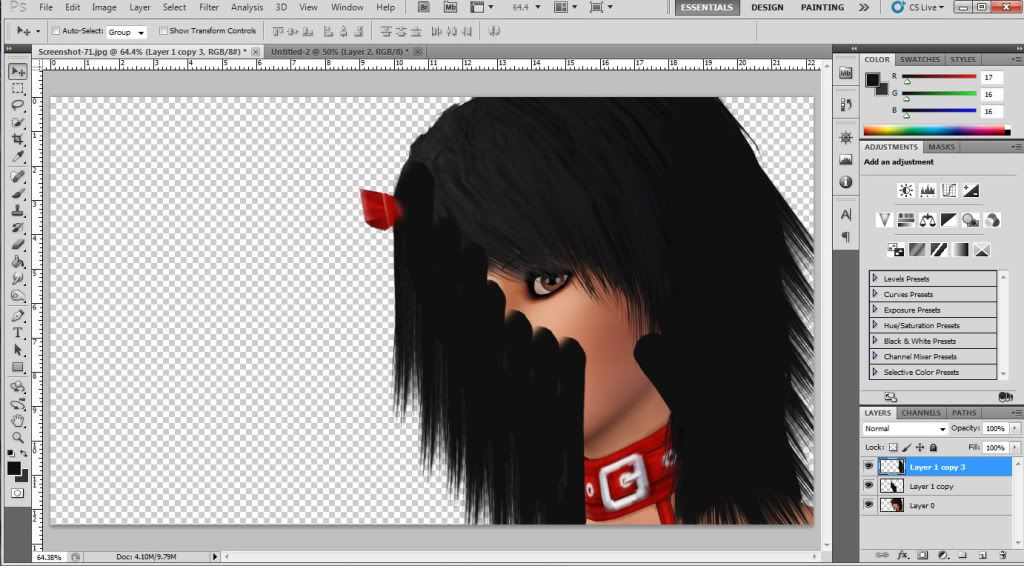 Now time to remove the excess. Click on the layer you want to edit. right click> Blending Options> Opacity> I am using 70% Opacity
Using the eraser tool remove excess hair. After you remove the excess it should look something like this. I had to do a little extra using the Lasso tool and painting in part of the ribbon.
 At this point go ahead an duplicate your original layer (the one with your sim) this way if you make any mistake you will still have your original. Merge visible with your original sim layer and your hair layers.
 Due to the fact that I am still very new to adding hair, with the black I just paint some extra black and use the smudge tool to to blend it all in. for what I am going for this works well.
 Your photo should look somewhat like this now.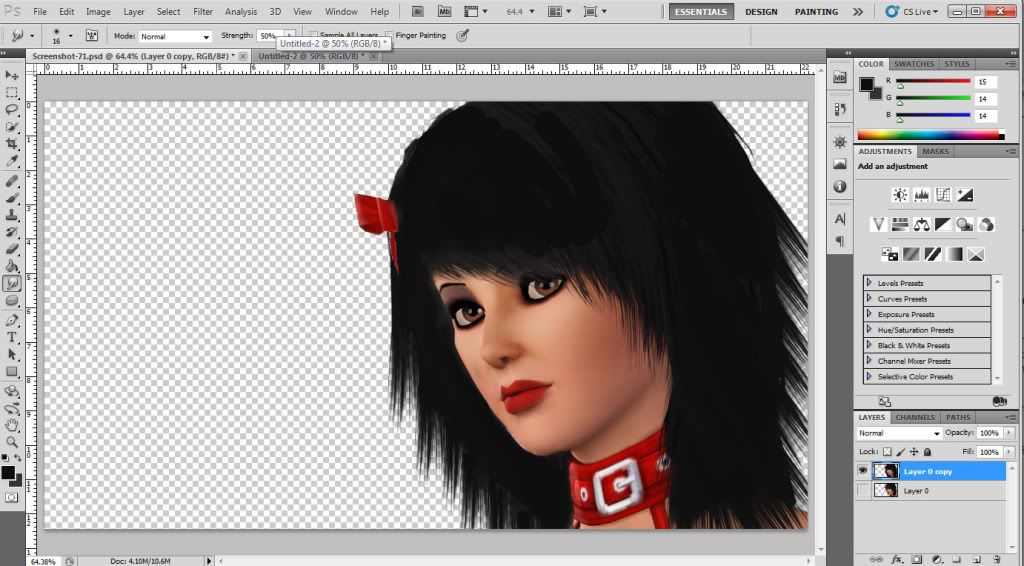 Using the quick selection tool (and sometime ALT to remove it) select the areas you want to be black and white. For this photo I want the reds to stick out so I will not be selecting them, or the eyeballs.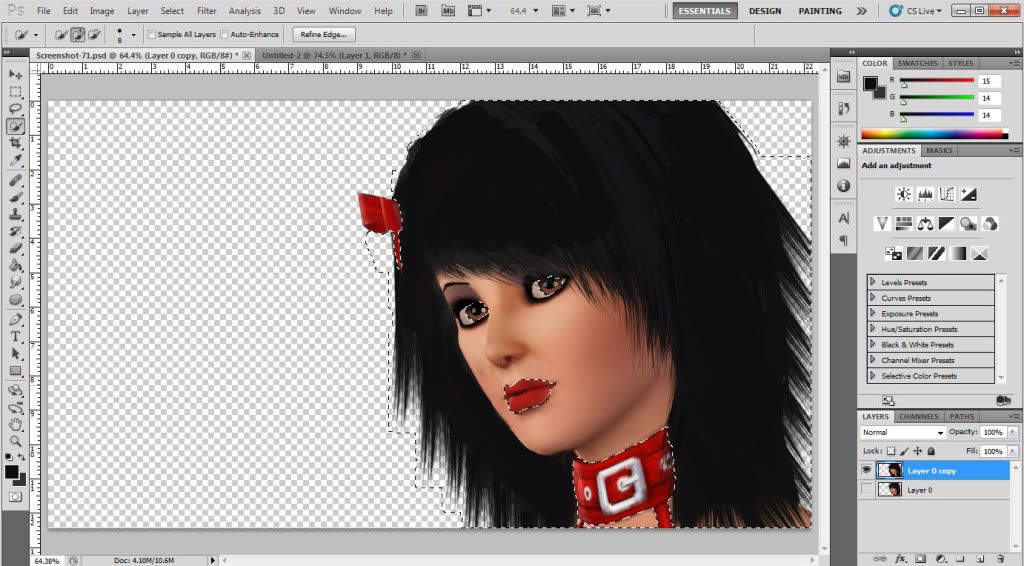 After making your selection click ALT+SHIFT+CTRL+B. Another box will pop up, for preset I selected Lighter. to lighten up the greys.
 Now time to adjust the colors that make this photo pop. First I like to start with the eyes. Using the magnifying glass zoom in so you can see the eyes better. Using Quick selection select only the eyeballs. Go to Image> Adjustments> Color balance to choose your general color. After you have made your selection go to Image>Adjustments>Hue/Saturation with this you can adjust how dark or light you want them to be, the saturation (how much color you want) and the color to get it to what you want.
 Now to continue with the eyes using the Quick selection tool you want to select the white around the eyes. Go to Image>Adjustments>Hue/Saturation and adjust the lightness and make the area a brighter white.
 **To get out of close up by clicking View> Fit to screen**
 Lets work on the reds. Using Quick selection select the red areas. Using Image> Adjustments>Hue/Saturation. I am darkening the red using a darker Saturation at -19. Your photo should now look something like this.
After doing all this I have now added the original to view by clicking where the eye should be on the layers panel. In this particular setting it darkend some areas that I had missed or erased by accident.
 For this photo I have decided to use the texture at the link above. Open the texture in photoshop and grab it all then copy, go to your new photo and paste. You may have to click CTRL+T to size it to your image. You will need to drag the layer to the bottom of the other layers to put it behind the image you want to stand out. You may at this point see some areas that are lighter then the rest around the edges. use your burn tool on the layers you wish to darken those areas up. I also tend to zoom in and use the burn tool around the border of the face, hair, and other items while before finishing up.
Now that your done with your finishing touches wala! You're finished! It should look something like this:
** while posting one of my instructions paragraphs dissapeared.. If you have any questions or get confused please feel free to mail me.*